About Me
The short version . . .
I live in southern New Hampshire, with my husband Bill and two teenagers, Erin and Matt. We bought a bigger
home in 2001, so I finally have my own office. Room to work, and room for all my books, too!
I've lived most of my life in New Hampshire, though my family did move several times for a period growing up.
In those years I went to school in Cumberland, Maryland, Hingham, Massachusetts, Glastonbury, Connecticut,
and Winchester, Massachusetts, before returning to New Hampshire after my junior year in high school.
I love writing for children . . . my passion began with picture books, but I discovered that I also love writing
nonfiction. I love the research, and learning about new things. That's good, because I get to write about a lot of
different topics. And I can't think of anything else I'd rather do!
And if you care to read more . . .
I'm the youngest of four children, the baby of
the family. Here I am at a couple months old.
That's my oldest brother Bill, 6 years old, in
the foreground. Sitting from left to right are my
brother Dick, 4 years old, my mom holding me,
my sister Marguerite, almost 2 years old, and
my dad. As the baby of the family, I'm quite
certain I probably got away with a lot growing
up . . . . probably more than I'll admit to.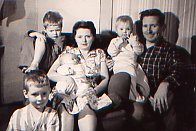 This is me at about 4 or 5 years old, fishing at my
cousins' summer camp on Lake Winnipesaukee in
New Hampshire. I probably got my brother Dick to
put the worm on the hook for me. I still fish, but now
I put on my own worms. Mostly, I use lures.
Here I am at my 6th birthday party . . . on a
pony, in our yard! There was a carnival in town
at the time. My mother got the idea to see if
she could rent their pony for an hour or two
that afternoon. The man from the carnival
arrived in front of our house, and gave all the
kids at my party pony rides around our yard.
As the birthday girl, I got an extra ride . . . it
was the best birthday party!

See the old car in the background? Can you
guess about what year this might have been?
As a teenager, I was crazy about horses. I collected horse statues and dreamed of having my own horse. The
closest I ever came was a best friend who had a horse. I got to go to the stables with her and ride her horse a few
times. I loved it, but it only made me want my own horse even more. I guess that birthday party started it all.
Growing up, my parents always tried to take us
places. For vacations, we often traveled through the
eastern states, seeing the sites in the cities . . . New
York, Philadelphia, Washington D.C, as well as the
country side . . . lots of historical sites, exploring the
Luray Caverns and driving the Skyline Drive in
Virginia, visiting the Pennsylvania Dutch Country.
And of course, camping in many spots along the way.

Here I am with my brothers and sister on a trip to
Washington, D.C., visiting the Lincoln Memorial. I
didn't know then that when I grew up, I would write a
book for children about the Lincoln Memorial.
I didn't think about being a writer growing up, although I remember playing librarian with my sister. I always
pretended to check out lots of books. Come to think of it, that hasn't changed. I still love to go to the children's
room in our local library. It is rare that I leave without a stack of twenty or thirty picture books to read.
Hmmmm . . . maybe there was a clue in those childhood games of what was to come.
Here I am with my dad in our garden in Connecticut.
That's my sister on the left behind the corn stalks. My
mom wanted a picture to show off how tall her corn was
growing. She always loved to garden. At the time, I
probably did everything I could to get out of helping, but
now I love to garden, too, so it must have rubbed off on
me.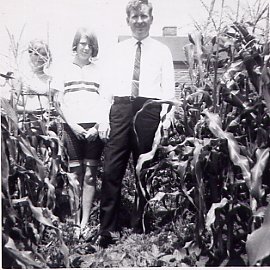 I also played school a lot with my sister. By high school, I started realizing I wanted to be a preschool teacher.
I graduated from The Derryfield School in Manchester, New Hampshire, and started at Skidmore College. Later,
I went to the University of New Hampshire as a preschool education major. In addition to education classes, I took
classes in children's theatre, children's literature, and library science. I remember the day I was sitting in a children's
literature class, and suddenly realized how much I loved picture books. I loved the form, the tight stories, the
illustrations, everything about them. At that moment, I absolutely knew that someday I was going to write them
myself.
I did go on to be a preschool teacher, and was also
the Director of a Day Care Center. Bill and I were
married in 1979, and in 1982 we bought a small house.
The house needed a lot of remodeling and updating.
Boy, did that keep us busy . . .


(Bill with his dad . . . and endless work!)
| | |
| --- | --- |
| (Erin, 1984) | especially when we started adding on, first to the family . . . |
| | |
| --- | --- |
| then to the house . . . | (That's me, with Erin, in the background, 1986) |
| | |
| --- | --- |
| (Erin and her new brother, Matt, 1988) | then to the family again. |
I never lost my passion for picture books, but for a long time it was mostly dabbling and jotting down ideas.
Then I finally joined a terrific critique group in about 1989. With their support and feedback, I began getting more
focused, and more serious about submitting my work. I sold a few pieces to magazines. In 1999, I began writing
books for Capstone Press, and shortly after that, sold my first picture book to HarperCollins, as a result of a
critique at the SCBWI-NE conference.
I love writing for children! I also still do many of the things I did as a child. I still love to fish and go camping.
And I even still think it would be great to own a horse and go riding often, although I guess at this point, that will
likely remain on that "someday" list forever. But you never know. Maybe I will at least write about horses
someday.
Thanks for visiting,
Kathy
Home | About Me | My Books | School Visits | For Teachers | Writers' Groups | My Collection | Email Me