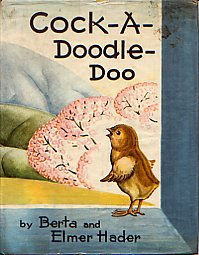 1939
These pages are simply for my own fun, intended only as a way to share some of the little treasures I have found over the years. I have gathered them from many sources, for nickels, dimes, quarters, for free . . . . from yard sales, library book sales, from an elderly neighbor who wanted to give them to someone who would appreciate and enjoy them.
Some of the books are older, some not so old, some are first editions, some not. While I know that some have value as collectables, that was never my intent as my shelves filled and bookcases increased. For me it was only ever about the fun of seeing the wonderful variety of children's books over the years. For that reason I am sorting them by the original publication date of the illustrations to show the styles of the time period, and will note if I know whether the book is a first or later edition.
Though the pages started primarily with regular pictures books, they have expanded over time to include Little Golden books and other mass market books (Wonder Books, Elf books, Tell-a-Tale books, etc.) as well as easy readers, board books, story collections, and even a handful of magazines. There are also a few older children's books included for the illustrations of the period. It has also been great fun to discover illustrations done early in the careers of illustrators who later became very successful in the field.
These pages are a work in progress, changing and building as time permits. In addition to adding books and noting award winners, I am also including tidbits of interesting information as I find it, such as noting first book by well known authors or illustrators, and links to interesting outside sites.
I have many more books than what you see here. I will add to the pages when I can, so check back often. Hope you have fun browsing.---Kathy
Since 1938, the Caldecott Medal has been awarded each year to the artist of the most distinguished American picture book for children published in the United States during the preceding year.
*** Caldecott Winner * Caldecott Honor
Since 1922, the Newbery Medal has been awarded each year for the most distinguished American children's book published the previous year.
*** Newbery Winner * Newbery Honor